In this page i will publish news sending by Mega fans. Their news gossips reviews all stuff about megabrothers u will found here...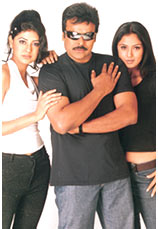 About Indra audio sales in Banglore Ouf fan club Member Great fan of chiru Mr Girish report.
INDRA-THE HOT CAKE
Indra -the much awaited movie of megastar has created huge craze among megafans.the sale of its audio itself is an example for that.Never in the history of any other hero has created such a comprehensive record of its audio sales.The sales in audio might have created ruckus record in andra.But one more great aspect is that it has created new record in Karnataka also, especially in bangalore. Its sales here is the all time best record of megastar.most of the audio shops witnessed a great sale of about 100 casettes per day.its all time best of chiru since HITLER. As per my polling in the location of R.T .nagar,Ganganagar the audio shop owners were rejoiced of the complete sale of the cassettes in the first 2 days.In the business places of bangalore like s.p road and so on the cassettes went over 200 cassettes but still exact no.s of cd's were not known.
No doubt the movie is going to be a next milestone of megastar,its audio sales is just a simple indication of mega stars mega power.as our chiru itself has promised we will hope for the best from the movie.
Ur comments are seen at
girishgiri@rediffmail.com
(girish)


An special atricle on Megastar by our great Megafan.

An intense performer, and an actor par excellenceChiranjeevi today is a MEGASTAR who has achieved iconic status. In a career spanning almost 25 years,Chiru in his films has essayed performances ranging
from the bluntly commercial to the impressively personal and ambitious.

Stoic, laconic and lethal, he came into his own with the character of Surya in KHAIDI. Drawing inspiration from Sylvester Stallone's First Blood, Chiru sizzled across a 150 minute drama which in the end changed the very face of heroism in the Telugu motion picture
industry. This film marked the beginning of his long and successful 1st innings.

After seeing 2 major debacles in 1995, he took a break
for 1 year for some retrospections and introspections.


Then started his Second innings....

Hitler

(Jan 4 1997)
Chiru took an about turn from his macho man image to a
more family man image in this malayalam remake, in
which he plays a despotic, yet doting brother of 7
sisters. After several flops, this film showed that
chiru is a phoenix, who has risen again to the top. He
gave a dignified performance after the Big Boss &
Rikshawodu debacle. The story not only showed the
people and the film industry that he was serious about
his change of image but also displayed his
histrionics. Chiru also danced his way into his fans
hearts, who had been missing their mighty megastar
with his numbers with ramba.


Master :
(Oct 3 1997)
Chiru showed that he is not only a favorite of kids
and older men of 30 years of age but also of the
college crowd with this film. He showed with Hitler
that he can attract the women folk to watch his films
but with this film he attracted the teens and 20 year
olds, thus re-emphasizing that he has a hold on all
ages of the audience. His role of a happy-go-lucky,
yet heartbroken college telugu lecturer was another
feather in his cap of varied performances. Though the
story was routine, suresh krishna presented chiru in a
very different light. It's definitely a story that
chiru has never done before. In the flashback portion
of the second half, chiru gave a wonderful
performance, especially the scene when Roshini dies in
his hands and the following scene when he goes after
her killer. He also showed his flare for comedy in the
first half when he mingles with his students. All in
all it was really a wonderful change for chiru and he
delivered in every respect, including dance!


Bavagaru Bagunnara :
(Apr 9 1998)
This film is one of the high points in the last 4
years of chiru's career in that through this film,
chiru went from one end of the spectrum to the other.
Mostly considered to be a role more suited for
rajendra prasad, chiru showed that he's not only a
megastar among heros but also a megastar among
comedians.His comedic histrionics went to an all-time
high in this one, and not at any point does the
audience feel that he is overacting. The light-vein
entertainer was a treat for people of all ages, kids,
teens, older men and women. it's an out and out laugh
riot!!!!!!!! what makes this film more enjoyable other
than the wonderful comedy with chiru at the center of
it all is the melodious music! the songs were
absolutely terrific and made the film more worthwhile.



Choodalani Vundi :
(August 27 1998)
Chiru continues with his family man image and plays
the role of a father in search of his son in this
film.Definitely another excellent performance from
chiru. This film also showed that the megastar isn't
straying away from action films as he dangled from a
truck which was hanging off of a bridge in the final
sequences of the film. The family sentiment plus the
action showed that chiru is looking for all types of
roles.This superhit film had again excellent music
from manisharma. Though the film was good and
entertaining, it would have been much better had the
director concentrated more on chiru's desire to find
his son rather than the love story between chiru and
anjala. This film is definitely a treat for those
chiru fans who are looking for great fights and for
those chiru fans who want to see chiru portray an
array of emotions, from love, to comedy, to anxiety,
to anger, to joy.


Sneham Kosam :
(Jan 1 1999)
What more can be said about this film other than the
fact that this film has given chiru the 1999 filmfare
award for best actor! yet another honor for his
wonderful performances. Chiru plays the roles of
father and son in this highly sentimental drama about
how the bonds of friendship are stronger than anything
including family ties. Chiru's performance as simhadri
was heart-wrenching. There's no chiru in this
character at all. He blended so well with the
character that it's as if chiru is simhadri and
simhadri is chiru.His performance was absolutely
wonderful and passionate! Though chiru's dancing
abilities were not overly utilized, his dance in the
song "voohalalo, voopirilo" was really very good!!!!


Iddaru Mitrulu :
(Apr 27 1999)
Though this film went above average at the box-office,
it reaffirmed that chiru wants to do different roles.
He had never done this kind of film before, in which
he plays a caring friend to a woman (sakshi sivanand)
for whom he is willing to hurt his marriage. However,
in trying to do something different, many of his fans
believed the story was too soft for chiru. But chiru
excelled in his very soft role. It brought the family
audiences and the women to the theater. However, his
fans had a big treat with the songs, in which chiru
dance steps were again amazing!!!!!!!


ANNAYYA :
(Jan 7 2000)
This big hit (collected about 16 crores at the box
office) came after the above average iddara mithrulu.
It was chiru's sole release in 2000, but it was enough
to shake the box office. With holes in the plot and
not as solid a directorial effort from the highly
talented muttyala subbaiah, the film ran solely on the
charisma of chiru. The film was overall good. It had
great songs, a very popular soundarya, good comedy,
fights, but still the direction could have been
better. Despite this, the film was one of the biggest
hits of 2000. Enough can't be said about chiru's
performance as rajaram. The role, filled with comedy,
sentiment, and action was tailor made for the
megastar. Starting off as a lax and doting brother to
two younger brothers and ending as brother who
believes in tough love, chiru virtually breathed life
into rajaram. He showed great versatility: underplayed
comedy, sensitive emotional acting, and rough and
forcefull machoism. No one could have done this role
except for chiru. In fact only chiru could outdo chiru
and HE DID! with the surprise package: ATMARAM! While
chiru played a perfect gentleman as rajaram, he played
a lude, vulgar, and a very crass character in atmaram.
He excelled in both. Though he has done both class and
mass characters in dual role films like rowdy alludu
and donga mogudu, this was different. Atmaram embodied
what rajaram wanted to do in his heart and chiru
excelled in conveying this dual personality. Nothing
needs to be said about the dances or fights because as
usual chiru was well, CHIRU!


Mrugraju :
(Jan 11 2001)
You must be wondering what would possibly be said in
an article praising chiru about this abominable film?
Well, chiru's dancing. So what, Chiru was, is and will
always be the best dancing actor in India. What is new
that needs to be mentioned? Well there is something
new. The freshness, complexity, and youthfull nature
of the steps, many of which he had never done before
were amazing! CHIRU NAILED EVERY STEP! What's even
more amazing is that chiru was very fat in this film.
Even with the extra pounds, chiru danced into the
hearts of everyone!


Sri Manjunatha :
(June 2001)
Megastar has always wanted to do devotional roles and
when he got the opportunity he jumped at it and
literally made the fans jump with delight at his
successful portrayal of Lord Shiva. To sum it up,
Chiru was just simply, OUT OF THIS WORLD! The audience
has seen him as Shiva in short bits in films like
Apathbandavudu, and there was an air of confidence
that he could pull it off as he had the look, the
dancing capability and the talent as an actor. But boy
did he pull it off! He took everyone's breath away.
Though, Chiru had a supporting role, he stole the
thunder from the other actors and made his presence
felt. From the beginning to end, chiru dominated the
film. When the audience felt he could do no better
than in the previous scene, he proved everyone wrong
by giving a better and more heartfelt performance in
the next scene. If he is great in the opening scenes
as Shankara, he dazzled everyone as the old man. When
all felt that was the highlight, he thrilled the
public as aghora. HE WAS JUST SIMPLY SUPERB! But what
was better than chiru's acting? Well his shiva
thandavam. At this age and during a period when he had
gained some weight, Chiru more than proved how great a
dancer he is. Without any prior dance training, this
natural talent delivered a fabulous Ananda Thandavam.


Daddy :
(Oct 4 2001)
After the debacle of Mrigaraju and the average run of
a dubbed Sri Manjunatha, many of chiru's fans expected
a mass masala film. But they were in for a surprise as
Chiru came in a family drama. Despite the negative
talk, the film had an above average run and recovered
its investments, thus proving the stamina of the
Megastar. Chiru does not need to answer to anyone. He
has reached a stage where he needs to experiment and
satisfy his creative urges. He accomplished this goal
in this film. He gave a spectacular performance. He
was lively, fresh, sensitive, charming, and just a
treat to watch on screen. Daddy ranks as one of
chiru's best performances. He played a role that was
in accordance with his age. Though it is a soft role,
he proved that he has a great hold over the family
audience, and that the Megastar is not only a "star of
stars, king of kings, and heart of a thousand million
fans," but he is also a king among actors. No words
can describe how great he was in this film! Chiru was
heartening to watch. He made you cry, laugh, and
cheer! People can feel as if they saw the old,
youthful, lively chiru from vijetha days! But he was
not like that. HE WAS BETTER! To sum it up, CHIRU TOOK
A RISK AND HE SUCCEEDED IN PROVING HIS CRITICS WRONG
BY GIVING A MEGA PERFORMANCE! Another noteworthy thing
about the film is how great the man looked! He was
slim, buff, and looked amazing. The clothes, style,
and trendiness of the his outfits accentuated his
wonderful looks! The choreography: DIFFERENT! Just as
chiru the actor should not do the same roles he did
before, likewise, Chiru the dancer should not repeat
the same steps. His dance moves were classy, trendy,
and stylish! They were a mixture of "atakavala
patakavala" moves and Fosse! He combined his mass
steps with the elegance of Broadway and proved yet
again how amazing an dancer he is!


FINAL THOUGHT:
We don't know where we will be tomorrow, the day
after, or after the next 10 years, but one thing is
for sure that Chiru will always be in the heart of the
Andhra film audience. The man was, is and will always
be a phenomenon. No matter how many records others
shatter and set, they will never be able to touch
Chiru, a TRUE KING OF ACTORS AND AMONG MEN! We read
many people's comments about chiru not doing films
that suit his image and that he should do films like
gang leader. He is afterall an artist and is 46 years
old and at this age needs to challenge his acting
talents. If he doesn't utilize his skills now, when
will he? Ofcourse we can expect something similar from
his forth coming films INDRA and the most expensive
movie ever made in tollywood, ANJI. HE DOES NOT HAVE
TO PROVE THAT HE IS A GREAT ACTOR. THAT HAS ALREADY
BEEN ESTABLISHED. He needs to add to his legend. I
WISH THE MEGASTAR THE BEST OF LUCK IN ALL HIS
ENDEAVORS AND HOPES HE CONTINUES TO AMAZE EVERYONE IN
THE FUTURE0!
-forever chiru fan VAMSEE! (<My Special thx to
him>). send ur comments Guestbook to mail me click
it borntowin4u@yahoo.com


world wide craze of Megastar.
Megastar has ultimate craze on Andhra. If his craze will be only in andhra nothing surprise. But we know his power in karnataka tamil nadu also. Daddy movie business proved what is Megastar craze in U.S. Recently in Khatar our Telugu movie association screend our Megastar movie Daddy on Bakridh day. 13 days before the tickets are over. Hundreds of people came to watch the movie. The arabians shocked to see the power of Megastar. They said In our Arab moive history we did't see this type of rush on our theater. Warevah ur Megastar is too great yaar". Not only that In Sudan one of our Megafan living. There no telugu moives. But Hindi movies will run there. Oneday a Sudan aadhmi looked at Megastar photo in Our megafan pocket. He said Hey he is Gunda raj i like him he is Gunda raj I like him. Then after our fan came to know In Sudan Megastar Prathibandh and Aaz ka Gundaraj movies were screend in past. Those films collected good amount and Gundaraj film created theater records also there. So many one in Sudan like chiru very much. But they called him with name of Gundaraj....ohhh thats the power of megastar. Craze of our lezend. no one become no 1 with 2 hit moives. This typeof examples made him Megastar and Lezend of Tollywood. i am proud of a Megafan.and u????
One of our Mega fan Hari contributed here with some awards list of Megastar.
Swayam krushi - Best Actor Nandi for year 1987
Rudraveena-National Nargeesdutt award for year 1988
Apadbhandavudu-Best actor Nandi for year 1992
Sneham Kosam - Best actor Film fare Award for year 1999
Sneham kosam---vamsi berkley
N.T.R Swarna Kankana award year 2000
Hitler, Master---screen award...
Other Awards - Best Actor Awards from Film Fare Screen, Cinema Express, Vamsi, Kala Sagar & Various Cultural organisations.
Awards from fans : Nava kishore, Supream Hero, Mega Star and Macho Megastar.
U can also send ur news gossips reviews and all stuff worth to read about megabrothers to me i will publish here with ur name, send ur stuff to my mail id.
Pls sing in Guestbook to express ur opinions. To return home click megabrothers