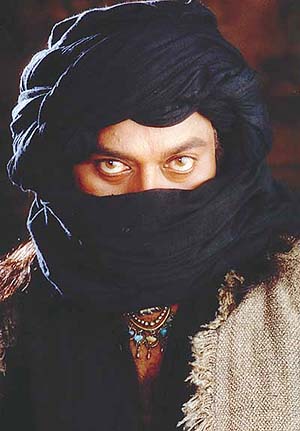 Mega Image on Karnataka...
Megastar is Number one in Andhra from 15 years...
Interesting thing is Megastar have same craze in Karnataka aslo.
They likes Megastar films very much...In Karnataka and B'lore Megastar have Many fans associations also...Not only craze and fans associations Megastar havesome hot records also in Karnataka....Gharana Mogudu is megahit there in Hubly and someplaces it ran direct silver jubilee. Megastar alsoshowing his love on kannada people. He acted Sipai and
Srimanjunatha direct kannada movies. Actually Sipai
is not a great worthfull movie. Even also with Megastar image Sipai ran direct jubilee in Banglorepramod (175 days) in Santhosh 100 days with 4 shows.Not only that Sipai ran 100 days in Mysore rabha,ChikmanglooreNagalakshmi,sivamogga mallikharjun, Tumkuru krishna,Davanagiri ashok Sensational Mutamestri ran 112 days with 3 shows inBangloore. Only megastar have Megafollowing afterKannada Kantirava Rajukumar. Same time u not forget onething.... In bollywood alsoMegastar acted 3 films Prathibandh Aaaj Ka gunda rajThe gentleman in those films 2 films become huge hitsand Megastar attracted their mass also. That is incredible stamina of Megastar. So there isnot strange issue Megastar called as SOUTH INDIAN MEGASTSTAR.....

Karnataka Records of Megastar........
Place Picture Theaters Days
1:Sivamogga Staterowdy Mallikarjuana a.c 300
days +(m.shows)
2:Gowri Mutamestri Abilasha a.c 80
days 4shows
bidanoor
3:Sidlagatta Gharana mogudu Venkateswara a.c 70
days 4shows
4:Sidlagatta S.P Parasurao Vijayalakshmi a.c 56
days 4shows
5:Sidlagatta Hitler Vijayalakshmi a.c 63
days 4shows
6:Chintamani Mutamestri Anjani a.c 56
days 4shows
7:Hubli Gharanamogudu Sangith 70m.m 265
days 4shows
(still all time record)
8.Mysore Mutamestri Sangam a.c dts 56
days 4shows

Staterowdy movie screend in Sivamogga first 5 weaks
with 3 shows and later 300 days mornig shows STATE
UNBEATBLE ALL TIME RECORD
(EVEN KANNADA FILMS ALSO DONT HAVE THIS RECORD)

Gharan Mogudu Screend in Hublie 265 days with 4 shows
still this is also unbeatable ALL TIME STATE RECORD(no
Kannada movie also dont have this record)

BANGLOORE DADHA ALL SOUTH INDIAN MEGASTAR........
Picture Theater Days
1: Intlo Ramayya Prabath a.c 50 days 3shows
Veedhilo Krishna
2: State rowdy Kapali a.c 100 days
(m.shows)(still all time record)
3: Mutamestri 6 theaters direct 50 days 2
theaters 93 days
1 theater 117 days still Unbreakble record of
Bangloore city...
4. Gharana mogudu Santhosh a.c dts 105 days
housefulls(all time record of stillfulls)
5.Mechanic alludu Santhosh a.c dts 49 days 4shows
50 days(m.show)
6:Pasivadi Pranam Megestic 42 days 4shows
7:Yamuduki mogudu Movieland a.c dts 49 days 4shows
8:JVAS Movieland a.c dts 49 days 4shows
9:Gangleader Megestic a/c 42 days 4shows
10:Rowdialludu Movieland a.c 42 days 4shows
11:Alluda majaka Aparna a.c dts 70 days
4shows(Still alltime record)
12:Rikshawvodu Megestic a.c 56 days 4shows
13:Bavagaru..... Megestic a.c 63 days 4shows
14:Sneham kosam Movieland a.c dts 63 days 4shows
15:Annayya Movieland a.c dts 70 days 4shows
16:Daddy Megestic a.c 56 days 4shows
17:Khaidhi no 786 Megestic a.c 42 days 4shows
18:ChattanikiKallu Minarwa a.c 56 days 4shows

this is the stamina of Bangloore and Karnataka record
of Megastar
Even Kannda films also dont break our Megastar
records. That is the example or Kannda people love On
our South Indian Lion.......
Hope u all enjoyd it....
i will come with more stuff like this.With ur support and encouragement...
send ur comments and wishes here......