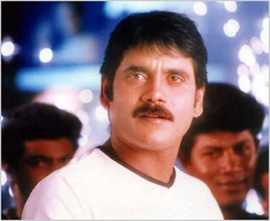 Yuva samrat Nagarjuna praised Megastar greatness manytimes. He told openly Megastar is number one hero in many times. He have such daringness and friendly feeling about co artist in industry. Few days back Nag give an interview to Times of india (Dec 30 2001)
Nag told "I have special feelings on chiranjeevi. When i enter the cine field He is already a big star his following mass fans are amazing. Even also he is doing hard work for his films. Why he is doing hard work on this position also i dont know. If any one else on his position they will relax.
Chiru came to industry with many struggles. I entered in industry by my father name, But chiru esablished step by step with out anyone support.
"Any artist dont have courage also to dream chiru position. We met some times. I like his decence he dont have any selfish feelings. He move freely with co artists and small artists also. I like his dance very much. His dance is one of the strongest point to him. I like his films Khidhi Muta mestri Choodalani undhi and Vijetha. He have good heart also He statred many charitys to serivce to people. He encouraging his fans on this issue. I am feeling unhappy why because i dont acted with him in any film. But i m feeling great may be next yearwe both are doing in a film. It will become big acting to me.
(These are some points from the interview)